Sloane Veshinski, LMFT, CAP
Sloane Veshinski has provided individual, couples and family counseling services for over 20 years, working in the mental health and addictions field as well as in Administration and Higher Education. She is a Licensed Marriage and Family Therapist, Certified Addictions Professional (CAP), Parent Coordinator, and Florida Supreme Court Certified Family Mediator. Her specialty area is that of conflict and conflict resolution for individuals, couples and families, utilizing a holistic strength-based model of treatment.
Sloane received her Bachelors degree from Penn State University in the area of Individual and Family Studies; her Masters degree from Nova University in Systemic Marriage and Family Therapy and is currently in the process of completing her PhD in Counseling with a specialization in Marital and Family Counseling. She also received training at Hanley-Hazelton Treatment Center for her certification as an addiction professional. Sloane is recognized as a Clinical Member of the American Association for Marriage and Family Therapy and an Approved Supervisor for Mental Health Counseling and Marriage and Family Therapy interns in the State of Florida.
Sloane has been published in the area of Divorce and Child Custody Assessments as well as Teen Gangs in Israel. She has presented on a variety of topics throughout the state for over 15 years. She is Past President of both the Broward and Dade Chapters of the Florida Association for Marriage and Family Therapy, Past Secretary for the Broward and Florida Associations for Marriage and Family Therapy, and Past Treasurer for the Broward Association for Marriage and Family Therapy. Sloane has once again been elected President for the Broward Association for Marriage and Family Therapy.
Sloane has been recognized by the Florida Association and Dade Association for Marriage and Family Therapy, the Association for Family and Conciliation Courts and several counseling-related organizations at Barry University, where she was a director and educator, for her commitment and dedication to the field of Marriage and Family Therapy. She has also been recognized as a dedicated professional by the Dr. Phil Show in that she is a referral source in South Florida.
Cynthia Mendez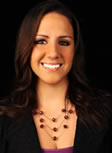 Cynthia is a Registered Marriage and Family Therapy Intern at The Sloane Center. She received her BA in Psychology from the University of Miami and a Masters degree in Marriage and Family Therapy from Carlos Albizu University.
Cynthia has experience working with both children and adults of multicultural backgrounds. She has worked with children ages 3-18 in home, school and foster care settings. Through these settings she has been able to gain experience in addressing marital and parenting issues. Cynthia has also worked with individuals, couples and families affected by cancer to address issues that arise from coping with treatment and illness.
Cynthia is able to provide services in English and Spanish.
--Español --
Cynthia es pasante de terapia de familia y pareja en The Sloane Center. Cynthia se gradúo de Psicología en la Universidad de Miami y optó título de magister en familia y pareja de la Universidad Carlos Albizu.
Cynthia tiene experiencia en trabajo con niños y adultos de diversos antecendentes. Ella ha trabajado con niños de 3 a 18 años en sus casas, colegios y hogares de paso. En estos campos Cynthia ha logrado experiencia en abordar aspectos de pareja y asuntos de crianza. Cynthia también ha trabajado con pacientes de cáncer y sus familias, apoyándolos en los aspectos relacionados con el impacto de la enfermedad y su tratamiento.
Cynthia es bilingüe en Español e Inglés.